Tanasaki Itsuki
Info
Kanji Name
店崎 一樹
Romaji Name
Tanasaki Itsuki
Gender
Male
Age
15
Status
Unknown
Date of Birth
February 1st
Blood Type
AB
Height
169 cm
Chapter Debut
SIDE/GULA/SIDE
Plot Overview
Edit
Profondíta Attack
Edit
Itsuki wakes up in an unknown room.
It is said in the first side story that Tanasaki isn't important for the story, so there's no need to remember him. However, he later appears in a chapter.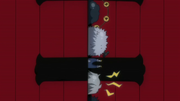 :
Ad blocker interference detected!
Wikia is a free-to-use site that makes money from advertising. We have a modified experience for viewers using ad blockers

Wikia is not accessible if you've made further modifications. Remove the custom ad blocker rule(s) and the page will load as expected.